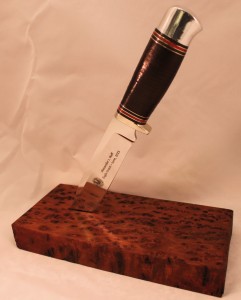 This knife is a modern interpretation of a historical Boy Scout Knife.  The original was made by the cutlery division of Remington and was called the REMF1C.
There were made for the boy scouts from 1933-1938.  This was prior to boy Scouts issuing the edict that fixed blade knives were too dangerous and migrated to folding knives only.  The original used Carbon Steel for the blade with a drop-point profile, brass for the finger guard, and aluminum for the butt-cap.  The butt-cap was drilled and used a brass nut to tighten and secure the stacked leather and Bakelite (for the color spacers) handle.
This knife is a made with more modern materials.  The blade is made from a modern stainless steel called ATS-34.  The finger guard is nickel silver.  The handle is stacked leather and the color is from PVC spacer. The butt-cap is aluminum like the original, but internally threaded instead of using an additional nut.
The profile of this knife is a bit different than the original.  Like all things, knife designs change with modernizations.  I used a more modern shape, but retained the drop-point profile.  This knife is a 6" blade drop-point Bowie.  Overall length is 10".
The stand for this knife is a stunning piece of birds-eye, curly, red-wood burl. I have been told this piece was cut in the 1930's by the Civilian Conservation Corps.  The log it came from was recovered during a forest restoration project in Northern California.  I left 3 sides rough and finished the front to represent the work this Eagle Scout did on his project, transitioning something from old to new.
If you are interested in a knife for your Eagle Scout or Boy Scout,  please contact me.