Continental Divide Knives specializes in a knife custom built for you.  Your needs, and your desires are always first when we build a knife.  We do custom commissions and presentation gifts.
All of us have seen those gifts for 10, 20 and so on years of service.  Those are often little acrylic statues, clocks, wall plaques and similar items.
For some people and some companies, these are perfect.
Others though, want it to be more of an individual gift.  Something that feels more from the heart.  Something that represents the individuality of a person, their activities or their interests.  A custom knife is a one-of-a kind piece that speaks uniquely to an individual.  The presentation can be basic to very elaborate.  We have done pieces for individuals and national groups.  Our pieces have been to celebrate milestone events, or to help raise money for charitable causes.
The most recent piece was for a young man who earned his Eagle Scout rank.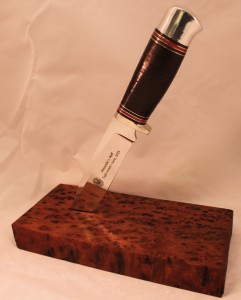 This piece was personalized to reflect his accomplishment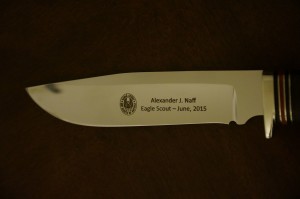 For more pictures of this knife and details surrounding it, please Click Here
Here are some more examples of presentation gifts we have created
For Groups:
and for individuals
Pieces are created with individual in mind.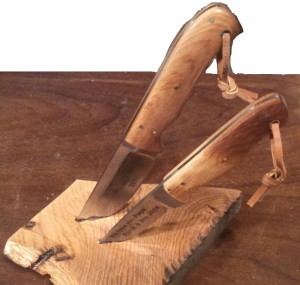 This piece was created by stabilizing pieces of wood from the family's original barn and then a custom message was added.
At Continental Divide Knives, we look forward to creating  your special gift.  Please contact us and we will work together to create your unique piece.